Supervisor of the Future:
SupTech Frontiers
Set sail on the winds of SupTech.
Power the paradigm shift in financial supervision
In an era of constant change, the financial sector is undergoing a rapid digital transformation that brings forth new challenges for supervisors. These changes, driven by technological advancements, data science breakthroughs, and innovative business models, have disrupted markets and financial supervision itself. As a result, supervisors must adapt to the emergence of new risks, reassess their priorities, implement risk-based approaches, and allocate resources effectively to ensure the sector's oversight remains robust. To navigate these complexities, supervisory authorities are now developing suptech-augmented frameworks and tools.
Within this dynamic landscape, supervisors often face a steep learning curve. They need to grasp the intricacies of market activities, products, and institutions, as well as comprehend the trends of increasing datafication, decentralization, and globalization of finance. Additionally, understanding emerging consumer behaviors, needs, and expectations is crucial. At the core of this course lies the formulation of upgraded risk-assessment methodologies and data architectures that are firmly grounded in the evolving market dynamics. Furthermore, this transformation is placed within the broader context of a cultural shift towards "digital-first supervision," enabling agencies to undergo incremental and realistic transitions towards this approach.

Comprehensive understanding of the interplay between data, technology, and evolving business models in the financial sector
A discovery of opportunities and challenges in the application of innovative technologies
A pragmatic framework to assess and address the impacts of fintech and digital assets innovations, the related risks across supervisory areas, and ongoing market innovations
Insights to formulate and develop digitally-first supervisory responses
Reframing capabilities for supervisory processes, frameworks, and approaches
The ability to identify supervisory use cases that suptech can upgrade or rearchitect
Creative and strategic thinking for present and future suptech applications.
An innovation-inspired and digital-first mindset integrated into your agency's operations.
Online
Self-paced
AsyncHronous
Get oriented and inspired
Familiarise yourself with the scope, learning objectives and timeline of the Programme
Feel inspired to think beyond the boundaries of your day-to-day job
Explore the Digital SupTech Diagnostic tool
Sketch capstone processes with teammates
Data and technology
Examine data and tech tools deployed in fintech, regtech and suptech products
Describe data science best practices and key features of new technologies
Assess practical and ethical implications of tech, and the related opportunities and risks
Blueprint the "Data Stack" model for supervisory data management of your agency
Identify dependencies and roles that are critical to suptech application development success
Collaborate with members of your broader institution to begin the Digital SupTech Diagnostic
Financial technologies
CRYPTO, DIGITAL BANKING, ALTERNATIVE CREDIT SCORING, PEER-TO-PEER LENDING, DIGITAL PAYMENTS
Investigate emerging fintech products and business models
Discuss how they are reshaping the financial ecosystem
Paradigm shifts in financial supervision
Identify and weigh the main drivers of supervised risks within your jurisdiction
Describe, analyse, and evaluate the supervisory framework implemented in your agency
Critically examine the impact of financial technologies on supervised risks
Characterise risks where suptech applications could augment the supervisory capabilities of your agency
9 elective tracks. Select 2 tracks:
1. CONSUMER PROTECTION AND MARKET CONDUCT
2. PRUDENTIAL & BANKING
3. PAYMENTS OVERSIGHT
4. SECURITIES AAND CAPITAL MARKETS
5. AML/CFT/PF
6. DIGITAL ASSETS
7. CYBER
8. INSURANCE
9. ENVIRONMENT, SOCIAL AND GOVERNANCE
2 weeks
4 - 8 Sept
11 - 15 Sept
Supervisory Innovation and SupTech Application
Interpret the implications of the digitization, datafication, decentralization, and globalization of financial services on existing supervisory frameworks
Describe, analyse, and evaluate suptech applications
Discuss and explain your Digital SupTech Diagnostic Toolkit output
Author and present a capstone peer review presentation
FINTECH INTELLIGENCE & SUPTECH FRONTIERS
Demystify technology by gaining a clear understanding of its underlying concepts and principles.
Explore private sector data tools and delve into the study of best practices in data science.
Investigate the practical and ethical implications of technology, while also assessing the associated risks and opportunities.
Identify various financial technologies and engage in discussions about emerging business models, consumer behavior, and innovative products.
Determine opportunities for adapting supervisory frameworks and redefining priorities to effectively support the growth of the fintech innovative ecosystem.
PARADIGM SHIFT AND DIGITAL TOOLKIT 
Examine financial technologies impact on supervised risks and critique real-world use cases and applications
Execute diagnostic exercises to sketch processes, assess suptech readiness, blueprint a 'data-stack' model and identify priority areas for intervention
Construct and map use cases and applications to innovate supervisory approaches and augment supervisory capabilities
With the capstone project, each participant will have the opportunity to integrate their learning, showcase their expertise, and create tangible value for their organization.
The capstone project allows you to demonstrate your ability to think critically, apply new analytical frameworks to supervisory challenges that you face, and make strategic decisions on the deployment of new technologies and data science to address them.
With the guidance and support of experts from our team, instructors and the programme tutors, you will tackle a complex problem or undertake a strategic initiative within your agency and identify opportunities to resolve them leveraging the advancements in suptech, developing a well-reasoned strategy or solution. The project may involve conducting research, collecting and analyzing data, and using relevant tools and methodologies provided by the Lab to arrive at informed decisions.
YOUR CERTIFICATE OF COMPLETION
This program offers you the opportunity to earn a certificate of completion from one of the world's leading business schools – the University of Cambridge Judge Business School. Your certificate will be issued in your legal name and shared with you upon successful completion of the programme, as per the stipulated requirements.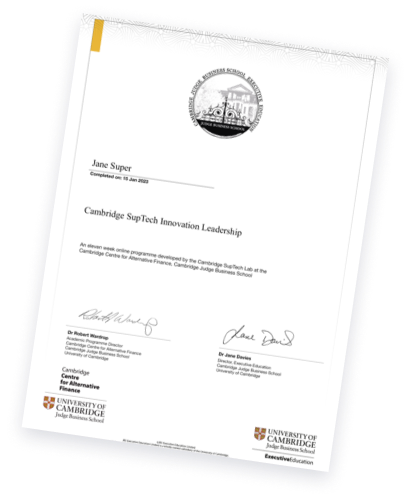 Programme lecturers and guest speakers
Technologists, data scientists, financial supervisors, policy and regulatory experts, economists, entrepreneurs, researchers, product managers and designers, coders, and business strategists with global and local expertise will lead the delivery of the curriculum, leveraging their first-hand experience and practical case studies from around the world.
Programme lecturers and guest speakers






Chris Butler
Lead Product Manager, Google
2022 Inaugural Innovation Leadership Programme

Muthoni Wanyoike
Data Scientist and Artificial Intelligence Embassador

Cennydd Bowles
Information Comissioner's Office



Kimmo Soramäki
Financial Network Analytics

Jo Ann Barefoot
Alliance for Innovative Regulationt





Lindsey Richardson
University of British Columbia


Anna Wallace
The Bill & Melinda Gates Foundation

Noel Guinto
Bangko Sentral ng Pilipinas

Juan Carlos Izaguirre
Consultative Group to Assist the Poor


Lesly Goh
Cambridge Judge Business School Fellow

Salvador Chang
Consultant Digital Financial Inclusion





Nick Clark
Cambridge Centre for Alternative Finance

Philip Rowan
Cambridge Centre for Alternative Finance

Rochelle Momberg
Digital Frontiers Institute
Sergio Jose de Mesquita
Consultative Group to Assist the Poor
The Innovation Leadership Programme is an excellent enabler for Suptech. I greatly appreciate the developers' efforts to put in a lot of material in this programme. The programme has a great mix of technical and leadership lessons that are necessary to equip students with the skills necessary to manage a suptech solution. And now that we are about to undertake a new large scale suptech project, I can say that I am now better prepared to handle this after going through this course.
This ILP program is very useful for us in obtaining knowledge related to supervisory technology. From the material provided as well as discussions or presentations conducted by other teams, information can be obtained about the soft skills and supporting infrastructure needed to be able to form reliable and efficient technology-based supervision.
THIS PROGRAMME IS FOR YOU,
IF YOU….
Seek to develop insights into the complexities of emerging supervisory environments
Aim to deploy suptech applications to steer data-driven supervision
Are ready to embrace emerging data science methodologies to enhance supervisory intelligence
Currently hold positions such as supervisor, regulator, policymaker, economist, examiner, actuary, analyst, data scientist, or technologist within regulatory, supervisory, or policymaking authorities.
Financial Authorities
Deadline for enrolment:
July 17th, 2023 at 11:59 PM BST
Individuals
Deadline for enrolment:
July 17th, 2023 at 11:59 PM BST
Special discount
Financial assistance might be available for participants from emerging economies and developing countries. If funding represents a challenge, please connect with us.
DISCOUNTS FOR INDIVIDUALS
*TUITION FEE PER PROGRAMME
LEAD THE JOURNEY TO DIGITALLY TRANSFORM FINANCIAL SUPERVISION
The Programme is open to all individuals who currently hold positions such as supervisor, regulator, policymaker, economist, examiner, actuary, analyst, data scientist, or technologist within regulatory, supervisory, or policymaking authorities.
We highly encourage agencies to enroll individuals representative of the various roles relevant for the development of a suptech application, roadmap, strategy, open data project, innovation hub, or digital transformation initiative. Take special note of the discounted tuition fee for enrollment of 5 people or more.
This Programme Is Supported By