These highly complementary and mutually reinforcing digital tools, built by the Cambridge SupTech Lab team, serve to empower financial authorities by accelerating the design, development, and procurement of suptech applications, and the elaboration of strategies and roadmaps.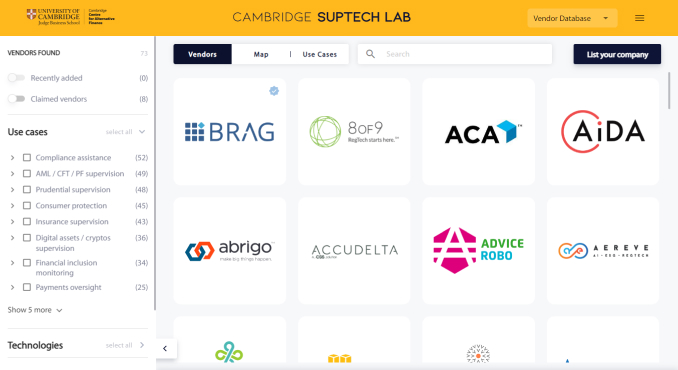 SupTech Marketplace
The SupTech Marketplace empowers financial authorities in making informed decisions regarding the design and development of suptech strategies, roadmaps, and applications. By providing a platform for thoughts, experiences, and capabilities of the global community of providers and customers of suptech applications, the SupTech Marketplace accelerates the research of the best-in-class solutions and partnering vendors in a solution space.
SupTech Vendor Database. A central, up-to-date database of vendors and applications is regularly monitored and updated by the Lab's team. Vendors can also directly contribute to this ever-developing database by listing their company and solutions, or claiming an existing entry.
SupTech Solutions Tracker. This living catalogue of suptech applications is regularly monitored and updated by a robust team of researchers. Financial authorities can also directly contribute to this ever-developing catalogue by sharing new solutions.
Collaboration Features.  Match vendor capabilities and off-the-shelf solutions to the business cases you have identified through the Digital SupTech Diagnostic tool. Then, select one or more vendors to reach out to with requests for information, procurement notices, and more.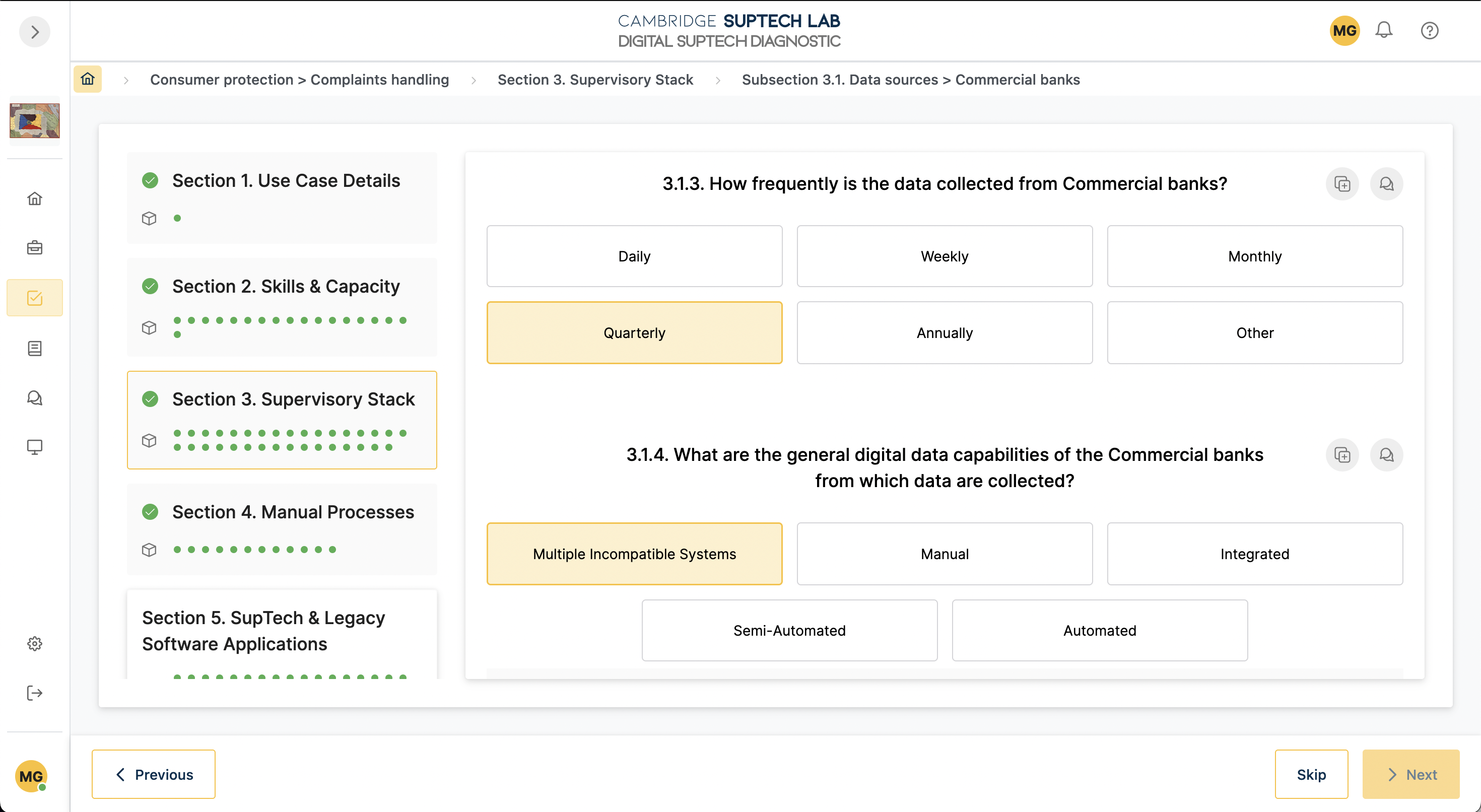 Digital SupTech Diagnostic
The Digital SupTech Diagnostic is an organisational level diagnostic application which provides financial authorities a snapshot of their current capabilities by assessing the digital infrastructure, data availability, manual and automated processes and key roles across a comprehensive set of supervisory use cases within the organisation. It identifies priority areas that are most appropriate for improvement via digital transformation and introduction of suptech solutions.
World-Class Insights. The online, secure questionnaire generates a world-class, graphic diagnostic report useful for senior management, reducing the need to hire international consultants.
Simple, User-Friendly Interfaces. The multiuser interface increases cross-functional collaboration, provides flexibility to the process and allows for continuous real-time update and monitoring.
Cross-Jurisdictional Learnings. This tool offers supervisors a clear view of their agency's supervisory use cases that are most susceptible to improvement via suptech solutions. These technical and managerial recommendations can be effectively implemented through the SupTech Marketplace, which highlights applications relevant to these priority business cases that have been deployed by peer financial authorities globally.