Practical Data Science in Financial Supervision
Catch the wave of digitalization toward the future of data-driven intelligence! 
As the tides of the financial sector continue ebbing toward the increasingly digital and interconnected future, the work of financial supervision is progressively converging with that of data science. Faced with a deluge of data, it is imperative that the next generation of leaders at the center of this digital transformation are able to leverage both the appropriate data science tools and supervisory best practices to effectively keep pace with market developments and understand the evolving consumers behaviors.
By pioneering suptech solutions, we can unlock insights from previously untapped data sources. Balancing legacy supervisory processes with cutting-edge data science approaches is key to fueling a sustainable modernization of supervisory tools and methodologies. This course equips public sector supervisors with practical knowledge of data science best practices, while empowering seasoned, socially conscious data scientists with ample opportunities to create positive impact through innovative suptech applications.

Practical, hands-on familiarity with data science, encompassing advanced analytics, data strategy, and management roles, providing you with the expertise to explore application opportunities beyond the course within the context of financial supervision.
Proficiency in utilizing advanced analytics and machine learning techniques to extract meaningful intelligence from raw data, enabling you to make data-driven strategic decisions with precision and confidence.
Enhanced technical skills in data science, including familiarity with relevant programming languages, data manipulation, and statistical modeling, equipping you with the necessary tools to excel in data-driven environments.
A deep understanding of data governance and ethics, ensuring you can responsibly handle sensitive data and comply with regulatory requirements while leveraging data science for improved financial supervision.
The ability to effectively communicate complex data-driven insights to both technical and non-technical stakeholders, enabling you to bridge the gap between data science expertise and practical application in financial supervision.
Start on
25 September 2023
Online
Self-paced
AsyncHronous
CURRICULUM
Practical Data Science in Financial Supervision
Get oriented and inspired
Develop an understanding of the context and importance of data science in financial supervision
Identify reasons for data science increasing significance in the field of financial supervision
Distinguish the value proposition of data science for both financial supervisors and data scientists
Feel inspired to think beyond the boundaries of existing roles towards an inter-disciplinary perspective
1 week
25 - 29 Sept
Data Science as SupTech: A Primer
Describe data science roles, tools, and best practices
Discuss and explain the SupTech Taxonomy and SupTech Generations models and their application
Identify key applications of data science in the context of SupTech
1 week
2-6 Oct
Data Science in the Wild: Hands-on SupTech Case Studies
3 Interactive Case Studies & Data Gymnasium
Identify the supervisory value proposition of the data science solution
Practice via interactive data science notebooks the technical details of the implementation and tools utilized
Investigate and compare the implications of changing parameters in the synthetic model version
3 weeks
9-27 Oct
Deploying Data Science Products in the Supervisory Context
Define the importance of the responsible use of data science tools and technologies
Identify the ethical considerations when using data science in financial supervision
Categorize data science management and team structure in financial supervision
Weigh opportunities for capacity and skills application within institutional and supervisory context
DATA SCIENCE CAPACITY
Actively explore the value of interdisciplinary collaboration between financial supervisors and data scientists and understand why this collaboration is increasingly relevant in today's landscape.
Gain a practical understanding of the roles, tools, and best practices involved in building and deploying advanced analytics tools, machine learning models, and other suptech data products.
Apply the SupTech Taxonomy and SupTech Generations frameworks introduced in our State of SupTech Report to develop a strategic approach for building data science roadmaps, assembling teams, and creating products that can be utilized in financial supervision beyond the course.
INTERACTIVE CASE STUDIES & DATA GYMNASIUM
Delve into three practical examples of data science in suptech, dedicating one week to each example. Throughout these weeks, you will:
Identify the specific supervisory value proposition of each data science solution, gaining a clear understanding of how it can enhance financial supervision.
Learn the technical intricacies of implementing each solution and become proficient in employing the appropriate tools for data analysis and modeling.
Gain an understanding of the implications of altering parameters within synthetic versions of the models, allowing you to grasp the broader impact of such changes on the effectiveness of the solutions.
The capstone project offers you a unique opportunity to integrate your learning, showcase expertise, and create tangible value for your organization. Throughout the project, you will build a conceptual brief on a proposed application of data science in supervision, drawing from the diverse portfolio of solutions provided by the Data Gymnasium. These solutions encompass various models, tools, and techniques such as supervised and unsupervised machine learning, trend analysis, sentiment analysis, network analysis, natural language processing (NLP), and image processing.
Demonstrating your critical thinking skills and applying new analytical frameworks to address supervisory challenges within your organization, you will make strategic decisions on the deployment of new technologies and data science to effectively tackle these challenges.
YOUR CERTIFICATE OF COMPLETION
This program offers you the opportunity to earn a certificate of completion from one of the world's leading business schools – the University of Cambridge Judge Business School. Your certificate will be issued in your legal name and shared with you upon successful completion of the programme, as per the stipulated requirements.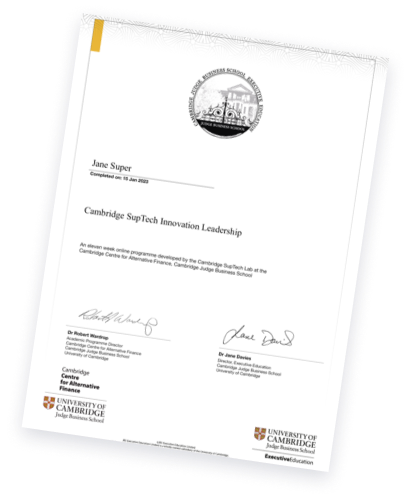 Programme lecturers and guest speakers
Technologists, data scientists, financial supervisors, policy and regulatory experts, economists, entrepreneurs, researchers, product managers and designers, coders, and business strategists with global and local expertise will lead the delivery of the curriculum, leveraging their first-hand experience and practical case studies from around the world.
Programme Development under the leadership of:

2022 Inaugural Innovation Leadership Programme

Muthoni Wanyoike
Data Scientist and Artificial Intelligence Embassador

Cennydd Bowles
Information Comissioner's Office



Kimmo Soramäki
Financial Network Analytics

Jo Ann Barefoot
Alliance for Innovative Regulationt





Lindsey Richardson
University of British Columbia


Anna Wallace
The Bill & Melinda Gates Foundation

Noel Guinto
Bangko Sentral ng Pilipinas

Juan Carlos Izaguirre
Consultative Group to Assist the Poor


Lesly Goh
Cambridge Judge Business School Fellow

Salvador Chang
Consultant Digital Financial Inclusion





Nick Clark
Cambridge Centre for Alternative Finance

Philip Rowan
Cambridge Centre for Alternative Finance

Rochelle Momberg
Digital Frontiers Institute
Sergio Jose de Mesquita
Consultative Group to Assist the Poor
I found the programme to be extremely insightful and it provided information for learners at all stages of learning. As a beginner I was able to obtain an understanding of Suptech and the different types of tools that were available. It has armed with the necessary knowledge to go back into the business and have conversations about the type of tools needed in my space.
The programme has really been fantastic. very well organised and structured. The course content was really informative and relevant. The support from the tutors and the interactive sessions complemented the course content really well. The online platform interface was really well set out, easy to navigate and overall of a superior standard. Well done to the team for pulling together an enriching learning experience.
THIS PROGRAMME IS FOR YOU,
IF YOU….
Are in a leadership role in any organization either private or public sector or are an aspiring analyst delving into data science and seeking thorough initiation into this captivating field
Aspire to drive the strategic agenda, application, and responsible use of data science in addressing real-world supervisory challenges.
Are eager to broaden your understanding and proficiency in data science across various supervisory use cases and technologies.
Seek to enhance your data science capabilities by exploring live data sets, tools, and techniques while embracing interdisciplinary thinking, roles, and approaches.
Financial Authorities
Deadline for enrolment:
September 24th, 2023, 11:59 PM BST
Individuals
Deadline for enrolment:
September 24th, 2023, 11:59 PM BST
Special discount
Financial assistance might be available for participants from emerging economies and developing countries. If funding represents a challenge, please connect with us.
DISCOUNTS FOR INDIVIDUALS
*TUITION FEE PER PROGRAMME
LEAD THE JOURNEY TO DIGITALLY TRANSFORM FINANCIAL SUPERVISION
The Programme is open to all public and private sector individuals who currently hold positions such as supervisor, regulator, policymaker, economist, examiner, actuary, analyst, data scientist, or technologist.
We highly encourage agencies to enroll individuals representative of the various roles relevant for the development of a suptech application, roadmap, strategy, open data project, innovation hub, or digital transformation initiative. Take special note of the discounted tuition fee for enrollment of 5 people or more.
This Programme Is Supported By