Leading Transformation:
Product and Organizational Innovation
Up your innovation game. Maximize your Impact.  
The pace and magnitude of suptech transformation are reaching new heights, and it's crucial for financial authorities to stay ahead of the curve, considering the diverse nature of leadership and different degrees of "readiness" to innovate.
To shape the modernization journey of the agencies, leaders are called to develop a visionary organizational outlook deeply rooted in evolving product innovation skillsets and effective change management strategies. For this programme, we have extracted – from the nascent and experimental stages of suptech and the more mature practices of the tech world – the best practices on product design and development and organizational transformation that pave the way for groundbreaking advancements.
This programme is designed for the leaders that are called to develop a visionary outlook deeply rooted in evolving product innovation and organizational digital transformation skillsets. Don't miss this opportunity to become a catalyst for change and be at the forefront of suptech innovation. Together, let's shape the future of financial supervision and make a lasting impact on the global stage.

A practical understanding of the various dimensions of digital transformation
Core leadership skills and techniques, including Human Centered Design (HCD)
Proficiency in the development of communication, change management, and digital strategies related to the digital transformation of public agencies, fostering collaborative culture and rigorous ethic to make your team thrive in the complex and fast changing digital world
Fundamental experience throughout the product lifecycle
Technical competence to utilize key tools and frameworks for crafting production-level applications
Confidence with design sprint methodology
Knowhow to navigate the challenges and risks of digital transformation being able to set mitigation strategies, align long term goals and producing enduring impact
Visionary thinking for shaping and nurturing creativity and collaboration in making innovation a shared value and true possibility
Online
Self-paced
AsyncHronous
Get oriented and inspired
Agile prototyping and applications development
Design Sprint and Innovation Leadership
INNOVATION LEADERSHIP AND CHANGE MANAGEMENT
Expand your leadership vision and skills to nurture creativity, innovation and collaboration in your agency
Become a more effective communicator and a more confident decision-maker, clearly articulating the vision, goals, and benefits of suptech initiatives to all stakeholders, fostering understanding and buy-in.
Develop self-awareness and emotional intelligence of an embodied leader, and encourage open dialogue, active listening, and collaboration to build a shared sense of purpose and ownership.
Embrace a mindset that acknowledges change as an ongoing and constant force in today's digital landscape
Foster a culture of innovation, collaboration, and openness to change, and embrace a mindset of continuous improvement, adapting and refining your digital transformation efforts based on feedback and insights.
DESIGN SPRINT & APPLICATION DEVELOPMENT 
Develop your capstone, collaborating with colleagues to design proofs of concept of cutting-edge scalable suptech applications
Actively participate in design sprints, understanding the methodology, synthesizing insights and road mapping a course of action
The Lab will run competitions to crowdsource ideas that complement the Capstones and identify vendors for the implementation of selected solutions, which will receive sponsorship for prototyping and deployment
The capstone project presents you with the opportunity to integrate learning, showcase expertise and create tangible value for your organization. Throughout the project you will develop a project charter detailing scope, technical analysis and implementation plans for taking a proof of concept of a cutting-edge suptech through agile prototyping.
The capstone allows you to demonstrate your ability to think strategically, generate vision and impact organizational innovation.
YOUR CERTIFICATE OF COMPLETION
This program offers you the opportunity to earn a certificate of completion from one of the world's leading business schools – the University of Cambridge Judge Business School. Your certificate will be issued in your legal name and shared with you upon successful completion of the programme, as per the stipulated requirements.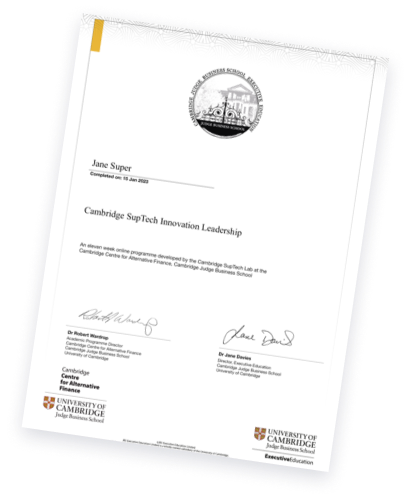 Programme lecturers and guest speakers
Technologists, data scientists, financial supervisors, policy and regulatory experts, economists, entrepreneurs, researchers, product managers and designers, coders, and business strategists with global and local expertise will lead the delivery of the curriculum, leveraging their first-hand experience and practical case studies from around the world.
Programme lecturers and guest speakers






Chris Butler
Lead Product Manager, Google
2022 Inaugural Innovation Leadership Programme

Muthoni Wanyoike
Data Scientist and Artificial Intelligence Embassador

Cennydd Bowles
Information Comissioner's Office



Kimmo Soramäki
Financial Network Analytics

Jo Ann Barefoot
Alliance for Innovative Regulationt





Lindsey Richardson
University of British Columbia


Anna Wallace
The Bill & Melinda Gates Foundation

Noel Guinto
Bangko Sentral ng Pilipinas

Juan Carlos Izaguirre
Consultative Group to Assist the Poor


Lesly Goh
Cambridge Judge Business School Fellow

Salvador Chang
Consultant Digital Financial Inclusion





Nick Clark
Cambridge Centre for Alternative Finance

Philip Rowan
Cambridge Centre for Alternative Finance

Rochelle Momberg
Digital Frontiers Institute
Sergio Jose de Mesquita
Consultative Group to Assist the Poor
The course had been extremely helpful in introducing relevant developments in Suptech which are being explored by regulators around the world. The course provided a shared space that enabled learning, discussion and sharing of experiences that would benefit the development of each jurisdictions regulatory environment. To conclude, the coursework, reference materials, speakers and resource people were all exemplary and I am grateful for the opportunity to have participated in the course.
Overall module design and timeline is very good organize. e-Learning is designed interactively with informative illustration and animation.
THIS PROGRAMME IS FOR YOU,
IF YOU….
Aim to become a visionary leader in digital transformation through innovation and data-driven re-design of supervisory approaches and tools
Seek to enhance your capacity in design, procurement, development and roll-out of suptech applications
Are committed to accelerating and catalyzing resilient, sustainable and innovative financial sectors
Currently hold positions such as supervisor, regulator, policymaker, economist, examiner, actuary, analyst, data scientist, or technologist within regulatory, supervisory, or policymaking authorities.
Click here to learn more about the Cambridge SupTech Lab Innovation Leaders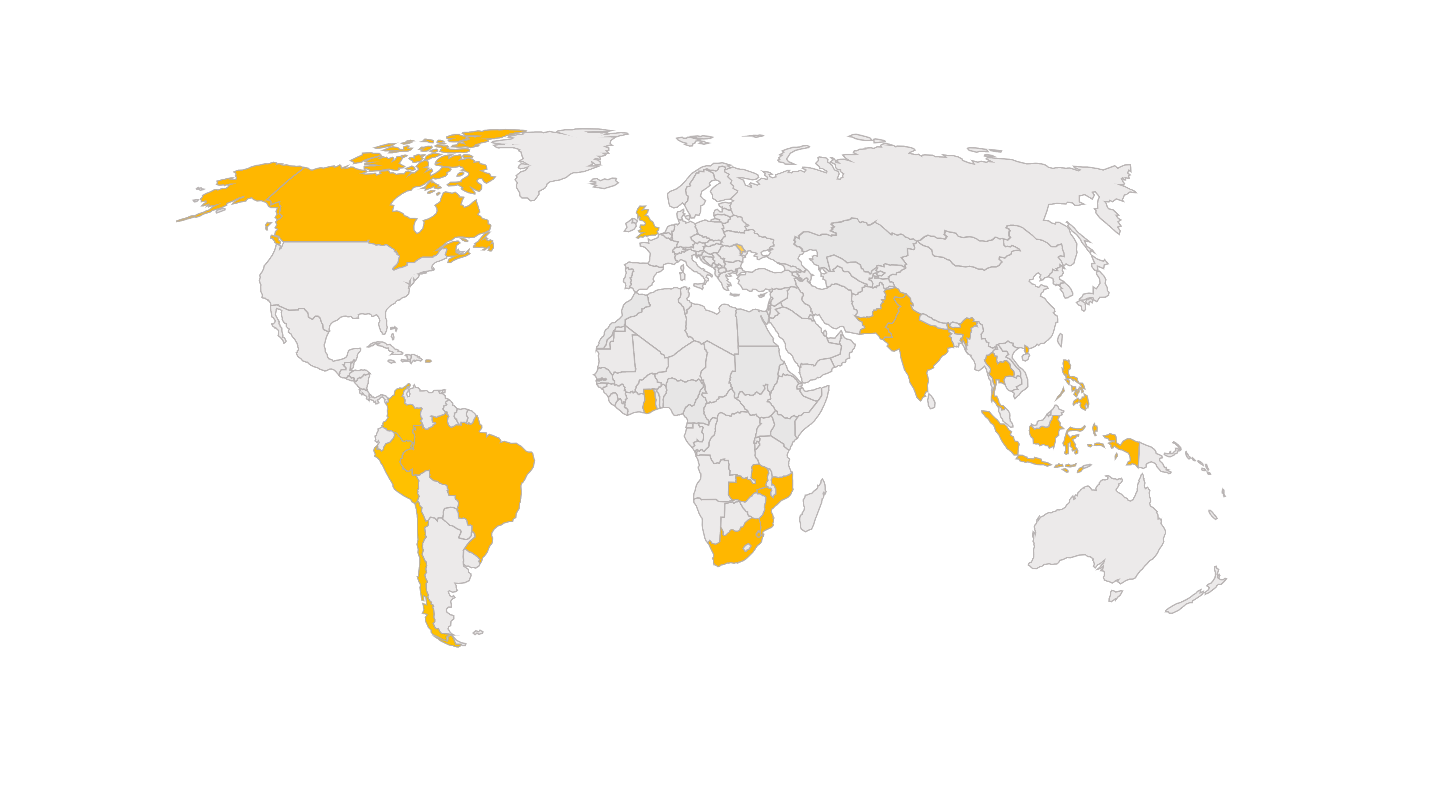 2.7
billion
people impacted
Financial Authorities
Deadline for enrolment:
July 17th, 2023 at 11:59 PM BST
Individuals
Deadline for enrolment:
July 17th, 2023 at 11:59 PM BST
Special discount
Financial assistance might be available for participants from emerging economies and developing countries. If funding represents a challenge, please connect with us.
DISCOUNTS FOR INDIVIDUALS
*TUITION FEE PER PROGRAMME
LEAD THE JOURNEY TO DIGITALLY TRANSFORM FINANCIAL SUPERVISION
The Programme is open to all individuals who currently hold positions such as supervisor, regulator, policymaker, economist, examiner, actuary, analyst, data scientist, or technologist within regulatory, supervisory, or policymaking authorities.
We highly encourage agencies to enroll individuals representative of the various roles relevant for the development of a suptech application, roadmap, strategy, open data project, innovation hub, or digital transformation initiative. Take special note of the discounted tuition fee for enrollment of 5 people or more.
This Programme Is Supported By